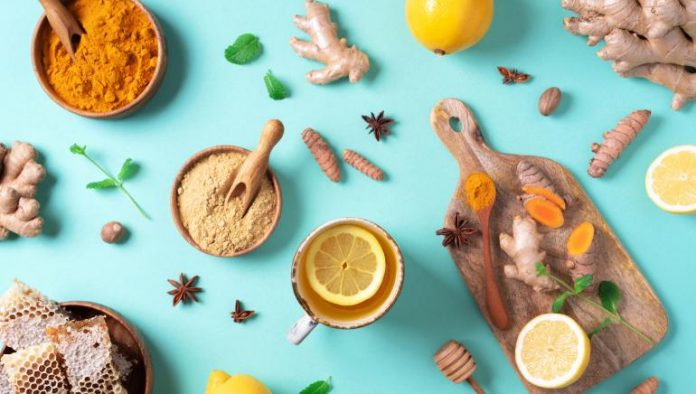 Along with COVID-19, there is another thing which is on everyone's mind and that is the desi nuskhaas that claims to cure COVID-19. But do they really work?
Nowadays, getting in touch with someone to talk and vent means inevitably having to talk about the one thing that's on everyone's mind and that is COVID-19. From what to do and what not to do, everyone has their own superhit formula to knock this pandemic down. The natural remedies for COVID-19 top the list when it comes to this battle.
From desi concoctions, exercising, to eating raw food – it looks like our family along with friends have found the old dadi maa's nuskhaas and want to try it all.
At times, it starts feeling like science, vaccines, and the hard work that medical researchers are doing to find a solution for SARS-CoV-2 is a complete waste of time. Apparently, these nuskhaas are all we need
We've got you the most common home remedies that people are trying nowadays with utmost discipline so that they can combat COVID-19.
Let's see what Dr. Kunal Shah (M.D.), a homeopathy expert who runs his own clinic in Mumbai, has to say about their credibility.
Here are those six natural remedies that you swear by on to cure COVID-19 nowadays:
1. Eating turmeric
Is your mom suddenly becoming too particular about you eating turmeric every day? There are high chances that she might have read or heard someone talking about it being a cure for COVID-19.
2. Eating raw garlic
"Well, there is no denying that eating raw garlic is really good for your gut and helps in weight loss. In fact, people who deal with indigestion and acidity must consume a clove of garlic with lukewarm water every day on an empty stomach. For COVID-19, I don't think garlic is the right choice to make", suggested Dr. Shah.
3. Chewing clove and black pepper
There has been a lot of hue and cry about eating black peppercorn and clove. According to our expert and science, it is a great way to keep your throat healthy but it has zero impact on COVID-19.
4. Drinking tulsi and mint leaves kaadha
"Some of my clients are coming up with this tulsi and mint kaadha that they are sipping on a daily basis. We all know that tulsi has therapeutic benefits and mint is great for your gut. Apart from that, I don't see any other benefit that you can reap from this concoction", says Dr. Shah.
5. Sipping warm water with lemon and honey in it
You might have also seen people advising to only drink warm water to prevent COVID-19 but at times, too much warm water also dries up your throat. "This mix is great for weight loss and vitamin C in lemon is known to keep your immunity in check", says Dr. Shah.
6. Practicing yoga
"During this lockdown a lot of people have complained about being stressed and there is no denying that an activity like yoga will keep you healthy. Therefore, it becomes all the more important that you practice it to keep your sanity in check", advised Dr. Shah
Bottom line is…
"All the things that people are terming as a 'natural cure' for coronavirus is only working on boosting their immunity. If you'll do all this, then there are chances that you will be able to battle COVID-19 but the fact remains that you can't tame coronavirus using these tricks," concluded Dr. Shah.
Not just Dr. Shah but the health agencies in the world like CDC and WHO have suggested the same thing vociferously. In fact, wherever you will read such natural remedies for COVID-19, you won't find any scientific evidence to authenticate it.