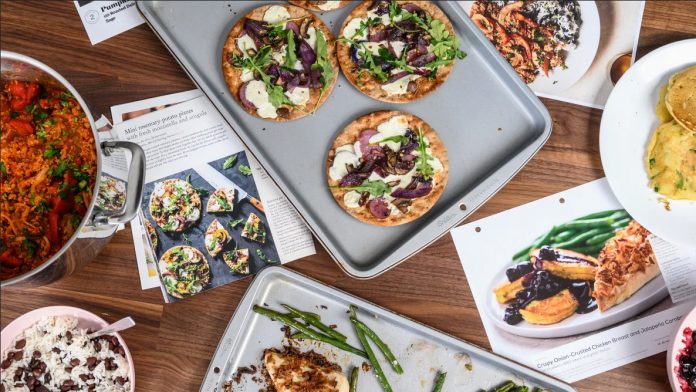 Meal prep is one of the best ways to ensure you have the time and energy to make healthy meals all week long. And meal kits are the best way to do meal prep without all the work. So we've rounded up the best meal delivery services, all of which send everything you need to make amazing, restaurant-quality meals at home—and take shopping and chopping off your to-do list. Think: exciting and interesting meals, clear cut and easy to follow instructions, and all the ingredients you need in the perfect amounts, so there's no guesswork and no waste. (Not to mention no leaving the house or planning ahead.)
The field is growing, with specialty purveyors focusing on vegan foods, seasonal ingredients, and smoothies. We tried the best meal delivery services out there and we gotta say, they made us feel like bonafide healthy chefs. Here's what we learned:
1. Home Chef
Why It Rocks:
Choose from nearly a dozen meals each week, and in about 30 minutes or less, you can whip up tasty dishes that work with your taste profile and dietary restrictions. Meat or veg? Avoiding dairy? Want to exclude nuts? Soy? Wheat? Home Chef has you covered with meals such as tomato risotto, Greek flatbread, and pineapple shrimp fried rice. They set their menus five weeks ahead, so you can plan out more than a month's worth of meals. If you're really new to this whole cooking-for-yourself thing, the service has a kitchenware page on their site where they sell a curated selection of basic kitchen tools that will get you on the road to home-cheffing. Stock up, get tips and tricks from its chefs, and get ready to impress yourself. Sample recipes: Steak with Garlic Chive Butter, Apple and Goat Cheese Flatbread, and Korean Fried Chicken (a customer favorite).
2. Sun Basket
Why It Rocks:
The folks at Sun Basket prioritize quality ingredients above all else, and it shows. The produce is all organic, the meat is antibiotic-free with no added hormones, and the seafood is wild-caught and sustainable. On top of that, they offer a variety of different meal plan options catering to special diets such as paleo, vegan, vegetarian, and pescatarian (you can opt to mix-and-match recipes from all of these different menus, too!). All meals are nutritionist-approved. Fans of the program praise the freshness of the meals, and note that the recipes are simple enough for weeknights, while also being creative and interesting.
Offerings range from classics like chicken milanese and bucatini carbonara, to fun new combinations like farro risotto and roasted shrimp with ajo blanco sauce. Weekly deliveries arrive in packaging that's 100 percent recyclable and compostable, which is another major win. Choose between the classic plan—which serves two to four people and offers paleo, gluten-free, vegan, vegetarian, pescatarian, diabetes-friendly, and more speciality meal plan options—or the family plan, which serves four and offers kid-friendly meals as well as a vegetarian option.
3. Freshly
Why It Rocks:
Freshly meals arrive at your home fully cooked and in insulated, eco-friendly packaging. Because the meals aren't frozen, you can get dinner ready in under three minutes—meaning there's no need to order delivery. Choose breakfast, lunch, or dinner from a weekly menu of rotating options; the entire menu is free of gluten and peanuts and produced in a gluten- and peanut-free facility. Sample menu: Steak Peppercorn, Chicken Tikka Masala, and Moroccan-Style Root Veggie Tagine.
4. Martha & Marley Spoon
Why It Rocks:
Berlin-based meal kit program Marley Spoon partnered with the domestic goddess herself, Martha Stewart, to bring you this curated, pre-portioned meal plan that helps you avoid waste. The concept is pretty straightforward: you decide whether you want to feed two or four people, and how many meals you want delivered per week. 22 new recipe options pop up every week, and boxes come with fresh ingredients and colorful recipe cards so you can follow along at home.
Meals are more ambitious than what you might make on a whim at home, but still approachable, from seared steak and kale salad to lemon-garlic chicken thighs (don't worry, there are vegetarian offerings like squash and kale flatbread, too), with the idea that no recipe should take longer than 40 minutes to pull together. For the truly time-crunched, there's even a selection of "30 minute and under" recipes.
5. EveryPlate
Why It Rocks:
EveryPlate prides itself on delivering affordable, delicious meals that aren't too complicated to cook. Meals on the basic plans net to $5 per serving, and you can choose between enough to serve two or four people per meal. The goal is to make getting dinner on the table less complicated, so don't expect gourmet-style meals—as it says on the company's website, "Our aim is to bring tasty value and convenience, not make you a chef." Even so, the selection looks as delectable as any meal kit service. Sample recipes include Sausage and Charred Corn Chowder, Thai-Style Pork Chops, and Barbecue Meatloaf.
6. Purple Carrot
Why It Rocks:
Purple Carrot runs on plant power. If you don't eat animal products or are lactose intolerant, you're in luck. Every single dish from Purple Carrot is not only vegetarian, but vegan, too. But don't worry, we're not talking boring grilled veggies here. This box features seasonal produce, herbs, and creative sauces that keep things interesting. Each week, Purple Carrot chefs create a new selection of plant-based dishes like cauliflower l'orange and coffee teriyaki skewers.
In addition to being healthy and tasty, Purple Carrot encourages users to appreciate the way that eating plant-based meals instead of ones containing meat is environmentally friendly, cutting down on water use and emissions. Choose from quick and easy, high protein, or chef's choice plans. There's also an option for athletes, called TB12, that features gluten-free recipes that are higher in protein and calories and limited in soy and refined sugars.
7. Gobble
Why It Rocks:
Meal kits inherently solve a problem in any busy hungry person's life—lack of time to shop and decide what's for dinner—but Gobble takes it a step further by doing all of the prep work for you. That means already peeled vegetables, minimal-to-no chopping, and a process that goes from pan to plate in only about 15 minutes. It's almost as low-effort as delivery, and often even quicker.
Plus, we love that Gobble includes specialty menu options like gluten-free, dairy-free, low-carb, and vegetarian, emphasizing kid-friendly options for families. Sample meals: Quinoa Vegetable Chili with Southwest Garlic Bread, Miso-Glazed Salmon with Soba Noodles & Snow Peas, and Filet Mignon with Asparagus and Blue Cheese Butter.
8. Green Chef
Why It Rocks:
Green Chef sells USDA-certified organic meal kits, aiming to make sure that at least 90 percent of the ingredients they send you are organic. The color-coded recipe cards make fancy meals easy and fast. All Green Chef meals are meant to be made in 30 minutes. In addition to carnivore, omnivore, vegetarian, and vegan, there are Paleo, keto, and gluten-free menus to choose from. In fact, Green Chef has three menus—Paleo, keto, and gluten-free—that have a gluten-free certification from the Gluten Intolerance Group's GFFS program. We loved the vegan Moroccan cauliflower and Cuban chimichurri tofu.
9. Fresh and Easy
Why It Rocks:
If you're already familiar with Home Chef's 30-minute home-cooking meal kit, prepare to be even more charmed by their new Fresh and Easy plan, which aims to make things even simpler. For the time-starved, Fresh and Easy's meals come pre-portioned, sliced and diced, and ready-to-go in oven-safe trays already, so you just need to pop them in the oven, set a timer, and grab the silverware. Cold options like salads are also on the table, and only need to be assembled and tossed. Clean-up is simpler than ever, and you don't even have to worry about chopping or cutting. Meal plans range from servings for two people to family-size options, and you can choose exactly how many meals you want to arrive per week.
10. Daily Harvest
Why It Rocks:
We like to think of this one as the grownup, healthy version of a Cup O'Noodles because they remind us of those easy, if sodium-laden, meals we used to make by pouring hot water in a cup. Daily Harvest's smoothies, soups, oats, and bites all come in cups you can eat right out of. Of course, cauliflower and leek stew, pumpkin and chai overnight oats, and our personal favorite cacao and avocado smoothie are a far cry from the ramen soup of our college days.
Daily Harvest even has delicious options for breakfast chia bowls, plus savory harvest bowls in case you want something a little heartier. The base comes frozen and all you have to do is add liquid, blend it in the blender, pour it back in the cup, and enjoy. Super easy, super fast—and only one thing to wash when you're done.