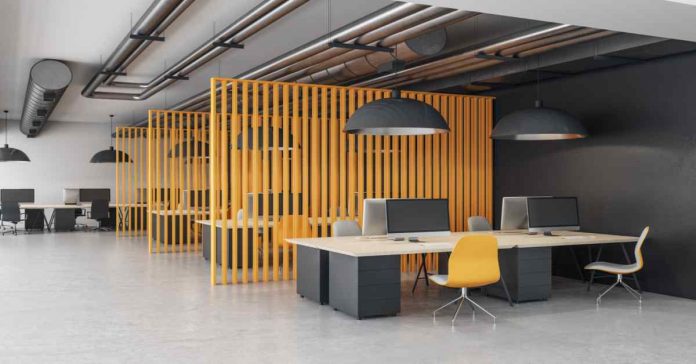 As more and more companies let people work from home, a number of traditional office spaces are being remodelled. The current trend requires smaller, fully-equipped, and expandable workplaces. Unlike the boring desk and chair of the classic office, the aesthetics of today's workplaces have changed so that workers can spend their days in a pleasant place.
Homes4India recommends the most up-to-date ideas for small office design in this article, which will change the way you think of the word "office" forever.
Best Small Office Designs In India
Here are seven of our favorite suggestions for sprucing up a small business's office space. Let's explore them.
1. Elegant Concept for a Small Workplace
This office layout idea can work well for both home offices and startups. The idea is to position the seating to a corner and place the window behind to allow natural sunlight. The table here is used as an extension of the main cabinet, which is a brilliant way to optimize the available space. Go for plenty of drawers and shelves to keep everything organized in one place.
2. Small workplace with shared desks
For companies with small teams, an office setup like this can achieve two purposes – effective space utilization and personal interactions with colleagues. By removing claustrophobic cubicles and replacing them with these divider desks, you can make sure that people work together without privacy invasion. A small coffee table and a lounge sofa can tone down the formal setting.
3. Modern Design Layout for an Office
If you have space constraints, this rectangular office layout is a perfect idea! You can choose a corner of the floor to create this stylish small office setup. Push the furniture to the corner to maximise the available space. Go for an island table and sleek rotating chairs. Conceal all the ugly wiring and add a beautiful painting for worktime inspiration.
4. Small Office Coworking Design
If you are not a fan of formal settings, then go for this office design! It is perfect for small teams, especially in professions like designing, where interactions happen between people on a regular basis. You will need an accent sofa on the corner to break the ice and a compact desk-cum-discussion table for serious brainstorming. Keep the walls in neutrals and add some colourful décor to make it a lively space.
5. Home Office Design with a Minimalist Touch
One way to adapt to the 'new normal' working style is to give these small office renovation ideas a try! You don't have to break down the walls of your home to set up a home office. Instead, declutter the unused space in the drawing-room or bedroom and wall that empty wall to hang in a few shelves. You can add some lights, display pieces and a sleek chair that doesn't block the walkway.
6. Small-Space Office Design Inspiration
Break the monotony of a traditional office setup by unleashing your creativity. Check out this cool office design that is anything but boring! Bright colors such as teal blue and yellow can help you beat the Monday blues. The playful wall décor is both functional and boredom killer at the same time. Go for small desks and chairs to save space. Choose carpet flooring for a more customized look.
7. Plans for a Workplace Remodel
With most employees working remotely, it makes sense for offices to cut down on their floor sizes. One way to bring everyone together is by choosing a large open hall and converting that into a mini office setup. This can be done by breaking down the concrete walls and replacing them with glass for energy savings. A minimal desk with a movable cabinet and chairs will do good! Add some old-style lamps to brighten up the environment when the sunsets!