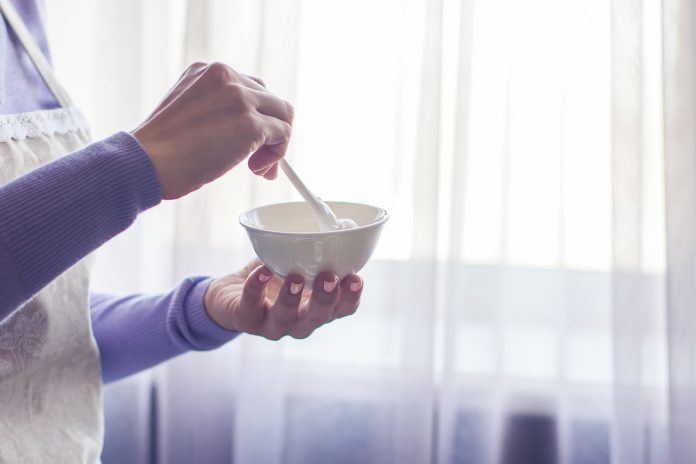 DIY hand cream recipe with shea butter, almond oil and jojoba oil. This amazing natural hand cream will regenerate, nourish and deep-moisturize your hands and prevent future cracking and drying out.
Making your own DIY hand cream is pretty easy and straightforward and it doesn't require a lot of your time. This recipe combines some of the best organic skincare ingredients you can find.
Together, they will nourish and soften your hands, get you rid of dry, cracked skin, prevent premature aging signs and protect your hands from cold weather and drying conditions.
Ingredients:
½ cup shea butter
1/8 cup sweet almond oil
1/8 cup jojoba oil
2 tablespoons beeswax
around 20 drops your favorite essential oil
You can also add aloe vera gel, glycerin or Vaseline for some additional hydrating properties.
How to prepare hand cream?
First melt the beeswax. Put the pastilles in a double boiler (you can just put a bowl in a pan filled with water). When the wax is completely melted, turn the heat down a bit and add the shea butter. Melt it down as gently as you can – if you overheat the shea butter, your hand cream might get grainy.
In the end, add almond and jojoba oil to the mixture. Mix everything well and remove from the heat. Wait for a couple of minutes before you add the essential oils, otherwise the heat might damage them.
After a couple of hours, your mixture should completely cool down and turn opaque. At this time, your DIY hand cream should be very thick, kind of like a hand balm.
If that is the texture you prefer, you can just transfer it to a clean glass container and you're all done. Next time, you can pour the mixture into a container while it's still liquid – it will be even easier to transfer it.
But if you'd rather have a lighter, fluffier hand cream, all you have to do is whip it up well with a mixer. Just mix it until you get a nice, light, creamy texture.
And that's it – your DIY hand cream is all done and ready to use.