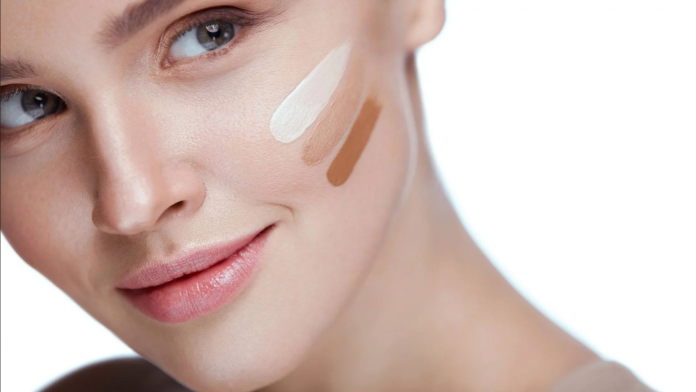 The ultimate goal is to find a foundation that looks like your own skin-only better. Choosing the right foundation for your specific skin type and ensuring it's the right shade is a strenuous task. It's tricky with the multiple texture and shade options. This is a critical product to get right. Foundation, when used accurately, has the power to transform you into a radiating goddess. This same makeup product, if done wrong, can be disastrous.
1.Pick the right shade
Some people love a tan while others are in search of a way to lighten their skin tone. However, trying a different coloured foundation is not the way to go. Wearing a lighter tone will probably make you look like a ghost as it will create a gray undertone and going too dark can make your face look blotchty… So, to avoid both situations, make sure the foundation evens out your complexion and gives it a bright glow rather than changing it up completely. No one should go out looking for a foundation that modifies their features. A base is supposed to enhance your natural beauty so make sure you find one which does exactly that.
2.Determine your undertones
"The most important thing is to figure out your undertones first," says Jane Iredale global makeup artist Hannah Hatcher.Undertones fall into three categories: warm, cool, and neutral. Warm undertones are golden, cool lean more pink or red, and neutral is a mix of both. Look at the overall tones of your skin to determine which applies. It can be a confusing process, so if you're not sure, there are a couple more tricks to try.
Usually, it's about the veins, Blue veins are cool, blue/green are neutral, and green are warm." You can also consider the clothing and accessories that suit you best. "If you look better in cooler-toned clothing, chances are you also have cool undertones," says Sesnek.
3.Identify your skin type
If you find that the product sits on top of your skin then that means it's the wrong consistency. Knowing the type of skin you have is utterly important. Those with dry skin are better off going for a dewy foundation; matte bases are good for those with oily skin while a semi-satin finish will do wonders for combination skin. The perfect foundation will melt right into your skin after a few light strokes of application. If you find that you have to rub it hard into your face for it to blend, then it's not the one for you.
4.Patch test
Never ever check the shade of the product on your neck or the back of your hands. To ensure you have the right colour and finish, swipe it against your jawline and make certain that it dissolves into the skin for a perfect match. Once you come across a base that's indistinguishable, you've got the right one.
Correct application of foundation:
Foundation is usually spread using a flat brush in a long sweeping motion as it helps in distribution. Start by applying a primer and begin the foundation application from the inside moving outwardly so that the product penetrates into the skin. Some prefer to use beauty sponges as it soaks up the excess product, balancing out your complexion further.