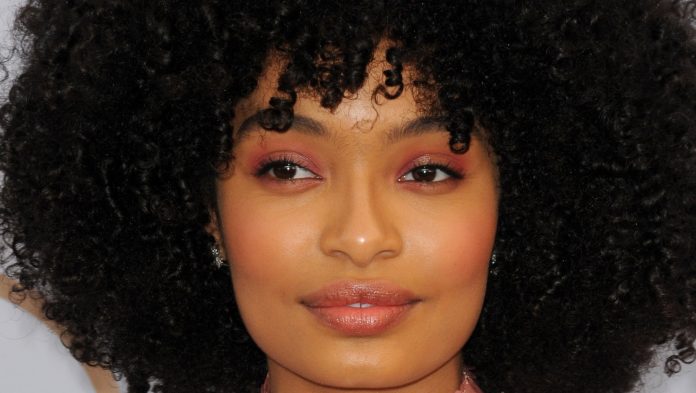 Being thrust into the spotlight at a young age isn't easy for anyone, and over the years, we've seen firsthand as young actors have struggled to come of age in the public eye. But in recent years (and a few cautionary tales later), many young actors are now instead focused on using their platform to bring awareness to causes they believe in and providing a positive example for those who look up to them.
Take Yara Shahidi, for example. The actress made her debut as Zoey Johnson on "Black-ish" when she was only 13 years old, before eventually headlining the show's spin-off "Grown-ish" (via Entertainment Weekly). In the years since, Shahidi has taken on activism, in addition to acting. In fact, in honor of the star's 18th birthday, she hosted a voting party, complete with a registration booth, to ensure the ease of her attendees' signing up to vote. She even launched an organization entitled Eighteen x 18 in order to impress upon her peers the importance of voting and staying active year in and year out.
Shahidi, who was raised in a "humanitarian family" comes to her activism naturally. "I think it's normal now to be on the cusp of many different emerging identities, which makes it more important not only to advocate for the things you're familiar with but to intentionally educate yourself and expand," she explained to Town and Country.
Splitting time between Hollywood and Harvard
So while Yara Shahidi continues filming "Grown-ish," she's also taking the time she needs to prioritize her education (via TV Insider). A few years ago, Shahidi enrolled at Harvard, even receiving a letter of recommendation from one of its most famous alumni, First Lady Michelle Obama. "I've been acting since kindergarten," Shahdi explained in an interview with The New York Times, "so I found it really important to take my time in this next step of my journey and appreciate it."
While at Harvard, Shahidi is double majoring in sociology and African American studies (via Black Enterprise). And proving that maybe you can have the best of both worlds, Shahidi was granted her request present early at the 2021 Emmy Awards so that she wouldn't have to miss any of her classes.
Between starring on "Grown-ish" and going to college, it seems as though Shahidi is taking the time to pursue a few different dreams. "I've wanted to be a history professor for longer than I've wanted to be an actress," Shahidi said during an appearance on "Jimmy Kimmel Live!" (via People). "And so I used to have the Harvard webpage up, and I'd go through the course catalog. So needless to say, this is something I've been planning for a long time."
What The Pretty Little Liars Stars Are Doing Now
Pretty Little Liars was a phenomenon. After all, no matter how old you are, there's just something so totally binge-able about TV shows centered around teenagers. For some reason, watching high schoolers go through all the mundane drama of everyday life makes you feel better about your own life. Of course, add in a missing person and a murder, and you've got yourself a hit. And such was the case with Pretty Little Liars. The hit series followed the "liars" as they tried to solve the mystery of who was anonymously torturing them following the disappearance of their best friend. Though the show came to an end in 2017, the series' seven seasons were so popular that fans can't help but wonder what the cast is up to now.
After all, Pretty Little Liars produced some pretty big stars. The actors who appeared on the show started out as being relatively unknown, and, throughout the shows' run, they all became pretty famous. Still, it's been a while since fans saw the pretty little liars on their screens every week, and the cast has changed quite a bit. Here's what they're up to.
Shay Mitchell has had some big life changes since Pretty Little Liars
As one of the main pretty little liars, Shay Mitchell, who played Emily Fields in the teen drama, has grown quite the social media following. Boasting over 29 million Instagram followers, Mitchell also has an impressive YouTube presence, where she frequently posts videos. And after Pretty Little Liars ended, Mitchell went on to accomplish quite a lot. In 2018, Mitchell starred as Peach Salinger in the hit Lifetime-turned-Netflix drama You. Mitchell also landed a role in the 2019 Hulu original Dollface, in which she plays Stella Cole. Mitchell also started her own business, launching her own luggage company, Béis (via WWD).
Of course, Mitchell isn't just busy with her career. In October 2019, Mitchell welcomed her first child into the world, a daughter with boyfriend Matte Babel, as reported by People. Between her stellar acting career and her having become a new mom, Mitchell is definitely living her best life.
Her time on Pretty Little Liars may be over, but there's no denying the fact that Mitchell is just getting started. 
Sasha Pieterse has grown a lot since her time on Pretty Little Liars
Perhaps one of the most mysterious characters on Pretty Little Liars was Alison DiLaurentis, who was played by Sasha Pieterse. DiLaurentis was a central character of the show, presumed to be dead in the first episode — and in many more episodes that followed. Of course, that wasn't the case, and her presence on the show soon became necessary.
Basically, Pieterse became hugely popular on Pretty Little Liars, and she continued with her iconic role even after PLL came to an end. In 2018, the creators of PLL made a spinoff series, Pretty Little Liars: The Perfectionists, and Pieterse starred in that as well, once again playing DiLaurentis. The Perfectionists was canceled after one season, but, in an interview with Seventeen, Pieterse made it clear the role would always be a big part of her life.
Pieterse, who competed on Dancing With the Stars in Season 25, tied the knot in 2018, marrying longtime boyfriend Hudson Scheaffer in a romantic ceremony, according to People. In November 2020, Pieterse and Scheaffer welcomed their first child, son Hendrix Wade, as People reported. In short, Pieterse is doing just fine.
Lucy Hale landed her own shows after Pretty Little Liars came to an end
Another member of the original group on Pretty Little Liars was Lucy Hale, who played Aria Montgomery on the hit show. Hale may be familiar to you, even if you haven't seen Pretty Little Liars, because she's been involved in quite a few projects. In fact, even before Pretty Little Liars, Hale was acting and had appeared in Sisterhood of the Traveling Pants 2 as Effie and in the CW's Privileged.
Since Pretty Little Liars ended, Hale has stayed hustling. Hale had her own show on the CW, Life Sentence, which got canceled after one season. But that's not all she's been working on. Hale has gone on to act in several films, such as Truth or Dare and Dude, and she signed on to once again star in her own CW show Katy Keene in 2020, which exists in the same universe as the hit show Riverdale, though it was ultimately canceled after one season, too. In March 2021, Deadline reported that Hale was cast in a new crime drama on AMC, Ragdoll, playing a detective.
Hale's resume certainly isn't short on experience, and, since Pretty Little Liars ended, she's been hard at work. 
After Pretty Little Liars, Ashley Benson found love with a famous model
Pretty Little Liars lasted for seven years, so it would be totally understandable if some of the cast were a little burned out. Such appeared to be the case with Ashley Benson, who played Hanna Marin on PLL. Of course, Benson hasn't completely left acting behind, but, since her run on PLL came to an end, she has worked on only a few acting projects.
Benson signed on to star in 2020's Lapham Rising and The Birthday Cake, but Benson's biggest role since leaving PLL has been in the 2018 movie Her Smell, in which she starred alongside Elisabeth Moss and Cara Delevingne. Benson and Delevingne started a relationship, which they kept fairly quiet, with a few exceptions here and there. While giving a speech at an event in Beverly Hills, Delevingne couldn't help but gush over Benson. "It's so nice to have someone in my life that supports me so much and loves me," she said, according to E! News. "I'm the luckiest girl in the world." Sadly, these two split in 2020 (via People), and Benson later started dating rapper G-Eazy, though they'd later break up too.
Troian Bellisario has truly blossomed in the years since Pretty Little Liars
Shay Mitchell isn't the only pretty little liar to have a pretty little baby. Troian Bellisario, who played the original perfectionist herself Spencer Hastings on Pretty Little Liars, welcomed her own child into the world. In 2018, Bellisario gave birth to a daughter with her husband, Suits actor Patrick Adams, according to People.
Of course, Bellisario has also been occupied with pursuing her career, as well as raising a daughter. In 2019, Bellisario starred in the film Where'd You Go, Bernadette, alongside Cate Blanchett, and she told Variety at the time that she was excited about taking on more mature roles. "Particularly now, being a new mom, I'm just really excited to explore more about the relationship of a mother to a child, and taking on more responsibility and even meatier roles," she told the magazine. Bellisario has also started getting involved behind the camera and has directed episodes of the Freeform shows Good Trouble and Famous in Love. In short, Bellisario is living her best life after Pretty Little Liars, and she is thriving.
Pretty Little Liars star Janel Parrish went on to appear in a popular Netflix movie series
One of the more interesting parts of Pretty Little Liars was how the villains were constantly changing. At one point in the series, the bad guy — the anonymous cyberbully who called themselves "A" — was revealed to be Mona Vanderwaal, played by Janel Parrish.
Fans loved Parrish's character on the show, so it's no wonder that, after PLL came to an end, Parrish would go on to star in the spin-off Pretty Little Liars: The Perfectionists. The series only lasted one season, but fans were still thrilled to see Parrish's Mona back in action. Of course, Parrish has found success outside of the PLL universe as well. She appeared in the hit Netflix original To All the Boys I've Loved Before, which landed two sequels in which Parrish will also star.
In an interview with Entertainment Tonight, Parrish credited her husband, Chris Long, with keeping her grounded. "It takes a lot of pressure off of me, knowing that wherever I have to go, whatever I have to do for my job, I have somebody who is so understanding and on my side and the biggest cheerleader," she said.
Ian Harding has laid pretty low since Pretty Little Liars
Other than the four main pretty little liars and the show's so-called villains, more notable characters from the hit teen show Pretty Little Liars were the love interests of the main girls. For Aria Montgomery, that was Ezra Fitz, played by Ian Harding. Harding is definitely a heartthrob, and he had fans of Pretty Little Liars obsessed with him during his time on the show. But now that he's no longer playing Mr. Fitz, Harding has more time for other projects.
Since Pretty Little Liars ended, Harding has gone on to regularly star on the TV show Chicago Med, where he plays Phillip Davis, and provide the voice of Harris for the animated series Kipo and the Age of Wonderbeasts.
Ian Harding has stayed close with his former costars, especially Shay Mitchell, and has even appeared on her YouTube channel.
Lindsey Shaw has stayed active since Pretty Little Liars
Another romantic interest of the pretty little liars was Paige McCullers, played by Lindsey Shaw. Paige had a relationship with Emily Fields, before dabbling in the dark side on Pretty Little Liars, as most characters do on the show. Still, fans really enjoyed Paige's romance with Emily, and, since the show came to an end, many can't help but wonder what has become of Shaw. And it turns out, the former Ned's Declassified School Survival Guide star has stayed busy and seems to be enjoying life.
Since her time on Pretty Little Liars, Shaw hasn't appeared in too much else, but she signed on to star as Maisey in the 2020 film Reboot Camp, a comedy about a man who starts a fake self-help group. Additionally, Shaw seems to be very into art, according to her Instagram page, and can even be booked for a Cameo, as well.
Tyler Blackburn has changed a lot since playing Caleb on Pretty Little Liars
On Pretty Little Liars, Tyler Blackburn played Caleb Rivers, the smoldering bad boy who swept Hanna Marin off her feet — and all the fans, too! Blackburn's character was definitely swoon-worthy, and there was no denying the fact that Blackburn was a super convincing bad boy.
Since Pretty Little Liars, Blackburn has since gone on to star in the 2019 reboot of Roswell — Roswell, New Mexico — as Alex Manes. He's also had some personal life changes since Pretty Little Liars ended. In an interview with The Advocate, Blackburn came out as queer. "I'm queer," he told the magazine. "I've identified as bisexual since a teenager." He continued, "I just want to feel powerful in my own skin, and my own mind, and in my own heart." Blackburn is being his true self since PLL ended, and that's pretty amazing.