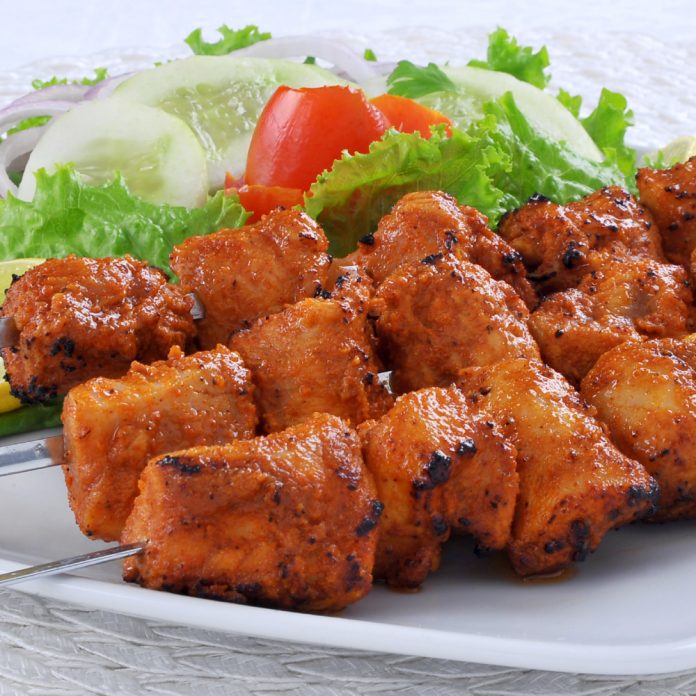 Fish tikka can be made in so many different styles with the most favourite one being tandoori tikka. However, the following recipe is a modified version of the traditional fish tikka. We'll be skipping the red-coloured tandoori masala or regular masala and making the fish tikka with green masala. To know how, continue reading.
INGREDIENTS
500 gms Boneless Fish Cubes fish used here is salmon
1 cup Coriander leaves chopped
¾ cup Mint leaves chopped
4-5 Green Chillies
1 Small Onion diced
5 Curry Leaves
1 tbsp Ginger Garlic Paste
1 tbsp Kasoori Methi
2 tsp Roasted Cumin powder
1 tsp Amchoor Powder
1 tbsp hung curd
¼ tsp Garam masala
2 tbsp Lemon Juice
2-3 tbsp Butter
Salt to taste
INSTRUCTIONS
Thoroughly wash and clean the fish cubes. Pat them dry on a tissue to remove all excess moisture.
Combine ginger-garlic paste, turmeric, salt, black pepper and lemon juice and marinate the fish cubes. Set aside for about 15-20 minutes. Grind coriander leaves, mint leaves, curry leaves and green chillies with very little water. Keep the paste dry and not watery.
In a bowl, mix marinated fish pieces, hariyali paste, curd, cumin powder, garam masala powder, amchoor powder, Kasoori methi and salt together. Coat the fish cubes well. Marinate the fish cubes for another 30 minutes.
Preheat the oven at 250°C. Place the fish cubes on a baking sheet and bake for 15 minutes. Baste the cubes with butter and bake for another 10 minutes or until fish is cooked.
Serve hot as a starter with lemon wedges, pickled onions and mint chutney.