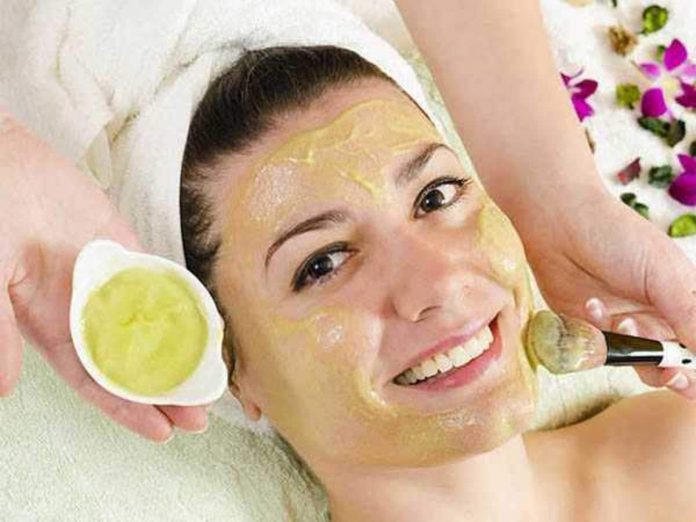 Feeling like your face needs a refresh but can't go to the store to buy all kinds of new skincare products? Don't worry, DIY scrubs are here to save the day. Simple homemade face scrubs are the perfect recipes to attempt if you're new to do-it-yourself skin care.  They're super easy to make and you likely have all the ingredients you need already in your kitchen. The ingredients are inexpensive and easy to find.
Dry, dead skin cells make it difficult for your fresh, new skin to absorb the rich creams, oils, and serums that you're using to repair skin, target acne, or prevent aging. Exfoliating helps remove the dead skin cells and other remaining impurities. It also helps to keep your skin clear and healthy. Here are some great scrubs that you can make and use at home for beautiful and flawless skin,
1.Milk Cream Scrub
Mix around 7 drops of orange oil (from the peel), 2 teaspoons of sugar, 2 teaspoons of milk cream and 5 teaspoons of olive oil. Scrubbing the skin with this mask will remove all the daily dirt from the surface. It will also improve your skin tone.
2.Coffee Scrub
Mix 3 teaspoons of  freshly ground coffee along with 1/2 cup of yoghurt. If you have dry skin, replace the yoghurt with full-fat milk.Blend in a mixer and leave aside for five minutes.Once the mixture thickens, add one teaspoon honey and mix well.
Apply this mixture on the face and scrub in upward circular movements for about 8 to 10 minutes.Wash off with cold water. Use this scrub twice a week for best results.
3.Oat Scrub
Take 1/2 cup of old-fashioned oats (uncooked) and Water.In a blender, grind the dry oats until finely ground. Place a pinch of the ground oats into the palm of your hand, then add water until a paste forms. Gently massage into your face and neck. Store the ground oats in an airtight container for later use. Instead of water, you can use milk or yogurt, which have lactic acid as a chemical exfoliant. Or, add apple cider vinegar with malic acid for brightening properties.
4.Sugar and Lemon Scrub
All that you need to prepare this magical scrub is 2 tablespoons of sugar and juice of 4 limes. Mix it and massage it with your fingertips gently in a circular motion on your face. Rub the sugar granules until they get dissolved properly while massaging. After this, wash you face with water. The regular use of this mask can clear tanned skin and dark spots.
5.Flax Seed Scrub
Take 1/3 cup of flax, 1 tablespoon of glycerin (or try shea butter, jojoba oil, cocoa butter or avocado oil),1 tablespoon of white clay,1 teaspoon of sugar and a splash of lemon juice. Put about 1/3 cup of flax and a spoonful of glycerin in a bowl and then grind until smooth. Then add the white clay, lemon juice, and sugar. Mix all your ingredients and follow by gently swiping onto your face.
6.Chocolate Scrub
Take 2 to 3 tablespoons of melted dark chocolate, 1 cup of granulated sugar, 2 tablespoons of ground coffee and 1/2 cup of coconut oil. Mix all these ingredients and store in an air-tight jar. When you want to use it, scoop a few spoonfuls in a microwave-safe bowl and heat it for 6 to 8 seconds. Scrub away to reveal soft, supple skin.
7.Aloe Vera Gel and Sugar Scrub
Take 1 tablespoon aloe vera gel and a sprinkle of fine sugar. Combine the two ingredients and after gently massaging them into your skin, leave the mixture on for a few extra minutes, and then rinse well to remove.
8.Olive or Almond Oil and Sugar Scrub
Take 1 tablespoon of olive or almond oil and mix it well with sugar. Scrub this paste on your face. It removes all the toxins and gives you a natural glow. You can also use this scrub on the elbow and knees to brighten the dark areas. This mixture also takes out the blackheads and whiteheads.
9. Coconut Oil and Sugar Scrub
Take 1 tablespoon of coconut oil and 2 tablespoons of sugar. Combine coconut oil and sugar in a small bowl, and stir to combine.  Rub sugar face scrub into clean facial or neck skin, using gentle circular motions, for 60 seconds.  Rinse dry with warm water.
10.Multani Mitti (Fuller's Earth) and Aloe Vera Scrub
Mix 2 cups of fuller's earth along with 1 tablespoon of freshly extracted aloe vera gel.You can either add a few drops of rose water or any of your favourite essential oils for an instant boost.Mix well to make a fine paste.Apply generously on to your face and neck and scrub for four to five minutes before washing off with cold water.
11.Baking Soda, Honey And Lemon Juice Scrub
Add 1 tablespoon each of baking soda and lemon juice in a bowl. To this add 1/2 tablespoon of raw honey.Stir well to make a smooth paste and apply it to your face.Gently scrub your face in circular motions for two to four minutes.Wash it off with warm water followed by cold water.
12. Rice and Egg White Scrub
Take 2 tablespoons brown rice and 1 egg white.In a blender, grind brown rice grains until fine. Add an egg white and whip to create a paste. Then gently massage the scrub into the skin in small circular motions to exfoliate dead cells. Rinse with warm water to remove.