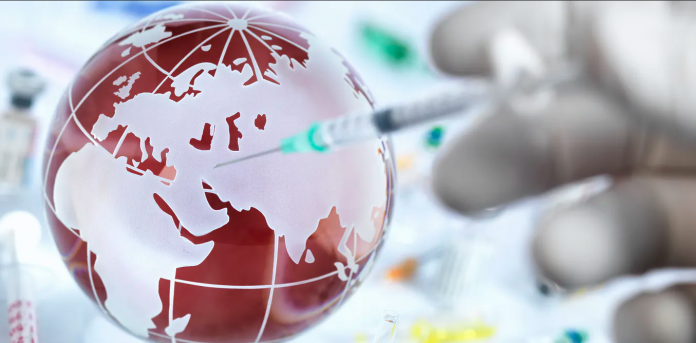 A few days after announcing that Cambodia will accept one million doses of COVID-19 vaccines from China, Prime Minister Hun Sen has asked the Indian government to donate its vaccines to Cambodia after India has just achieved initial success in a massive drive to vaccinate its large population.
The request was made by the premier during his meeting with Dr Devyani Uttam Khobragade, Indian Ambassador to Cambodia, at the Peace Palace yesterday morning.
"Through the ambassador, Samdech Techo Hun Sen requested the Indian Government to provide COVID-19 vaccines to Cambodia," Eang Sophalleth, the Prime Minister's personal assistant,  said after the meeting. "In reply, HE Ms Ambassador pledged to submit the request made by Samdech Techo Prime Minister to the head of the Indian government and will get back to him as soon as possible with a positive news."
Sophalleth added that Cambodia is looking at the Indian-made vaccines which can be stored at a temperature of 18 degrees Celsius, meaning that they could be stored in normal fridges and thus suitable for Cambodia.
"We did not ask for a specific amount of doses as this is a humanitarian request," he said. "But, we are seeking the vaccine which has been approved and authorised for manufacturing by the Indian government."
The Indian authorities so far have given emergency-use approval for two vaccines – "Covishield", AstraZeneca's vaccine made by India's Serum Institute, and the Indian-made "Covaxin", which has yet to complete its Phase 3 trials. However, it is unknown which one that the government wants to inoculate the people in the Kingdom, Sophalleth said.
The request to India marks another significant move taken by Mr Hun Sen in the fight against the deadly coronavirus, which as of yesterday has infected 436 people in the Kingdom, after announcing on Friday that the government will accept the donation of one million doses of COVID-19 vaccines from China to vaccinate 500,000 Cambodians.
While doing so means the Premier has reversed his previous commitment to only obtain vaccines approved by the World Health Organization (WHO), Mr Hun Sen further announced on Sunday that he will be the first person to be vaccinated when the Sinopharm vaccines from China are delivered to the Kingdom, a move to infuse confidence and trust in Cambodians that the vaccines are safe.
"I must be in the front line, which has been my normal habit for decades," he said in a Facebook post.
Meanwhile, Kin Phea, director-general of the International Relations Institute at the Royal Academy of Cambodia, said yesterday that given the ongoing situation, it is unlikely that India will be able to contribute to the vaccination efforts of other countries soon.
"From what has been shown, it seems that the Indian Prime Minister (Narendra Modi) is prioritising the Indian citizens, as India is one of the most densely populated countries with millions of infections," he said.
Phea added that leaders in Indian government have never declared any commitment to provide its vaccines to other nations either.
"While the request for the vaccine by Prime Minister Hun Sen is a good move, as the WHO's process in vaccine approval is very late, India has not done the same as China, which had promised Cambodia  a COVID-19 vaccine even before one was developed and mass-produced."
Back in September last year, Mr Hun Sen also asked Russia to provide Cambodia with its COVID-19 vaccine during his meeting with Anatoly Borovik, the newly-appointed Russian Ambassador to Cambodia, two months after President Vladimir Putin announced that his country had developed a vaccine named Sputnik-V and approved it for use in Russia.
In an exclusive interview with Khmer Times in late December, Ambassador Borovik said the Russian Embassy immediately notified the relevant authorities about the discussion, and now the relevant Cambodian authorities and experts are in contact with the their counterparts in Russia.
"I can only say they are in communication and a lot of discussion is underway as to the vaccine," he said in the interview. "So, I can only update once the talks are finalised."
Apart from Sputnik V, the Vector State Research Center of Virology and Biotechnology have also developed EpiVacCorona vaccine, which has also been registered and is undergoing its post-registration trials.
On Saturday, India, which so far has the world's second-largest known caseload of COVID-19 with more than 10.5 million coronavirus infections and over 152,000 deaths, began one of the world's biggest coronavirus vaccination programmes. It aims to inoculate around a quarter of the population, or 300 million people, including healthcare workers, people aged over 50 and those at high risk.
Having ordered an initial 11 million doses of Covishield at around $2.74 each, and 5.5 million doses of Covaxin at around $2.81 each, the Indian government had reported a successful start with more than 224,000 people receiving their first dose. Although 447 people have reportedly experienced side effects such as fever, headache and nausea after being given their shot, only three people among those have been hospitalised.
In the meantime, the Global Times has reported that 23 elderly people in Norway have died after receiving Pfizer vaccines, which has been approved for emergency use by WHO, possibly due to other factors. The deaths are being investigated.
During a meeting with WHO Director-General Tedros Adhanom on Thursday, the Emergency Committee on the pandemic advised WHO to speed up its studies on critical unknowns about COVID-19 vaccination efficacy, immunity and protections in various scenarios. The committee also urges vaccine manufacturers to provide safety and efficacy data to WHO for emergency use listing, since lack of such data is a barrier to ensuring the timely and equitable supply of vaccines at the global level.
"The Committee recognised the challenges posed by some manufacturers' delayed submission of vaccine data to WHO," the committee said in its statement. "These data delays impact WHO's ability to provide emergency use listing which ultimately affect equitable vaccine access."
The committee advised the WHO to promote global solidarity and equitable vaccine access by urging States Parties and manufacturers to donate resources and provide support to the COVAX Facility.
The emergency committee also highlight the essence of equitable access through the COVAX Facility as well as technology transfer to increase global production capacities and called for assistance for Support State Parties, especially fragile states, in preparing for COVID-19 vaccine introduction through a national deployment and vaccination plan.
On variants of the coronavirus, the committee called for a global expansion of genomic sequencing and sharing of data, along with greater scientific collaboration to address critical unknowns. It also encouraged WHO to develop a standardised system for naming new variants that avoids geographical markers.
"Given that the impact of vaccines in reducing transmission is yet unknown, and the current availability of vaccines is too limited, the committee recommended that countries do not require proof of vaccination from incoming travellers," reads a press release from WHO.
"The committee advised countries to implement coordinated, evidence-based measures for safe travel and to share with WHO experiences and best practices learned," it added
In a media briefing on Sunday, Tedros said WHO is working with manufacturers and countries to ensure the availability and equitable distribution of COVID-19 vaccine supplies around the world through the Covax initiative. He added that the programme will be able to deliver vaccine supplies a lot more effectively than the past.
"When AIDS drugs first rolled out, they were only available in rich countries until a historic movement of health advocates, civil society and manufacturers provided a rollout of low-cost antiretroviral drugs. In the H1N1 pandemic, by the time low-income countries received vaccine supply, the pandemic was over," Tedros said. "We don't want this to be repeated.