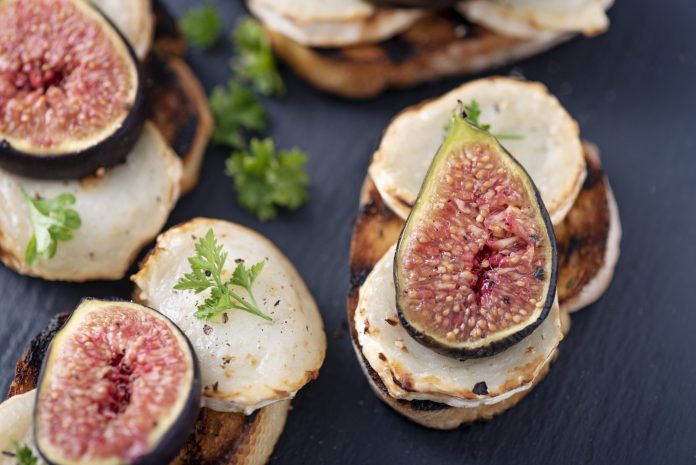 If you're looking to cut back on added sugar without denying your sweet tooth, figs are a smart alternative. Plus, the fruit makes a great addition to your Thanksgiving menu as a tasty appetizer or a festive salad topping. A good source of fiber, antioxidants, and minerals, figs come in a wide variety and colors including golden Calimyrna, green Smyrna, and the most popular variety: black Mission. When buying them fresh, choose figs that give slightly when pressed and don't have any cracks or bruises. Since fresh figs are perishable, store them in the refrigerator and use within several days or choose dried figs with no added sugars. In honor of National Fig Week, we've cherry-picked our favorite ways to get creative with the fruit. Pick up a bag of juicy figs and serve up these mouthwatering recipes!
Caramelized Red Onion and Fig Pizza
Have a hankering for pizza? This onion and fig pie from Eating in Color will satisfy both your sweet and savory cravings. At just 287 calories per slice, it's perfect for lunch or dinner and features two types of cheese – shredded mozzarella and crumbled feta for a touch of Greek-inspired flavor. The slices will also keep well in the fridge for up to three days (although it's so delicious, we doubt there will be any leftovers).
Honey Fig Jam
This luscious, gluten-free jam from Tasty Yummies is the perfect topping for your morning toast or yogurt. Making your own jam gives you the freedom to customize it to your liking and experiment with different flavor combinations, while cutting back on refined sugars. You'll need just four ingredients to whip up this simple treat that you can enjoy all month long.
Homemade Fig Newtons
If this classic cookie made frequent appearances in your lunch box as a kid, you'll love this homemade take My Whole Food Life. These delicious bites cut down on artificial ingredients and swap in healthier whole-wheat flour and unsweetened applesauce in place of enriched flour, high fructose corn syrup, and white sugar. Flavored with vanilla bean, cinnamon, and maple syrup, these fig newtons are just as scrumptious as the supermarket variety!
Carob and Fig Muffins
Chopped figs add an extra dose of sweetness to these hearty muffins from My New Roots. They're made with ground oat flour, a gluten-free base that offers more fiber than all-purpose flour, and swaps in vegan-friendly chia seed "eggs" in place of dairy eggs. Bake a big batch and store in an airtight container or in the freezer for an easy grab-and-go weekday breakfast.
Figgy Pudding Smoothie
Treat yourself to this indulgent, yet healthy breakfast smoothie from Simple Green Smoothies. A twist on the traditional holiday dessert, this figgy pudding smoothie is high in fiber and a great way to sneak in a dose of leafy greens. Banana and figs also provide plenty of sweetness without relying on added refined sugars.
To make, blend 1 cup spinach and 2 cups unsweetened coconut milk until smooth. Add 2 cups figs, 1 banana, 1 teaspoon ground cinnamon, and 1 teaspoon vanilla extract and blend again until smooth. Pour into 2 glasses and enjoy!