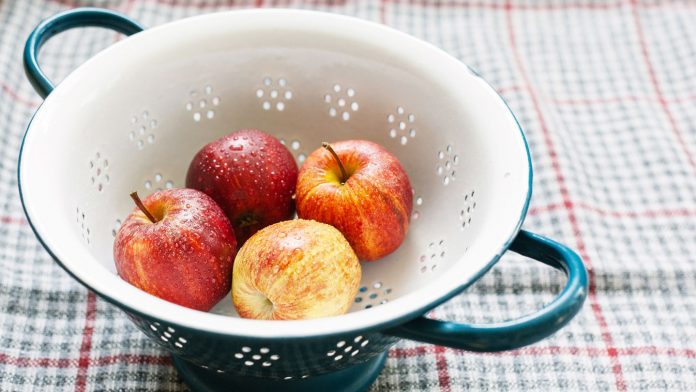 Whether you enjoy them as a crispy snack, a salad topping, or baked into mouthwatering pies, apples are a popular ingredient this time of year. The beloved fruit is a good source of fiber, and with hundreds of varieties grown in the United States alone, it's no wonder that the month of October is dedicated to the fall favorite. Celebrate National Apple Month by getting creative with the fruit — they make a great addition to breakfast and dessert, and every meal in between! If you're just returning from a weekend at the orchard or picked up a bag of apples at your local farmer's market, give these five heart-healthy recipes a try.
Apple, Almond, and Buckwheat Muffins
Start your day with these satisfying apple and nut muffins from Green Kitchen Stories. This hearty breakfast is naturally sweetened with homemade apple sauce and fresh dates, so you can enjoy a baked good without a helping of processed sugar. Ground cinnamon, cardamom, ginger, and sea salt enhance the flavor, while unsweetened plain yogurt and olive oil keep the muffins moist. Freeze extra servings for a stress-free option you can easily grab and defrost on busy mornings.
Apple Tuna Salad
Give your salad a nutritious fall upgrade by adding diced apples to tuna, chicken, or bean salad. This effortless apple tuna recipe uses nutrient-packed spinach as the base for a homemade tuna salad featuring apple, onion, and celery. Finish with a sprinkle of chopped walnuts for a dose of heart-healthy fats and extra crunch.
Apple Butter
When the midday munchies kick in, homemade fruit butter makes for a satisfying snack when paired with pita slices or veggie sticks. Detoxinista's simple apple butter recipe is a great way to use up extra apples when a weekend outing to the orchard leaves you with an abundance. It calls for just five simple ingredients — and contrary to its name, there's no actual butter required. Make a big batch in a slow cooker or on the stovetop, and store in an airtight container in the refrigerator.
Oven Roasted Autumn Medley
Apples for dinner? It'll quickly become a favorite with this sweet potato, apple, and sausage medley from Budget Bytes. The inexpensive and fuss-free casserole is flavored with herbs like basil, sage, and rosemary, which complement the sweetness in the apples and sweet potato. Keep sodium levels in check by leaving out the salt (it won't be missed with all of the other flavorful seasonings!) and swapping in low-sodium turkey sausage. At less than $10 for four servings, you'll have an affordable and tasty weeknight dinner on the table within an hour.
Oatmeal Raisin and Apple Sandwich Cookies
Pair apples with fresh baked cookies for an unexpected fall dessert. These heart-healthy oatmeal raisin apple cookies from Nutrition Stripped are a healthier alternative to the traditional recipe, using rolled oats for a dose of fiber and whole grains, and banana and raisins for an all-natural sweetness. Once the cookies are made, slice apples into rounds and sandwich between two cookies for a fun fall treat that's completely guilt-free!