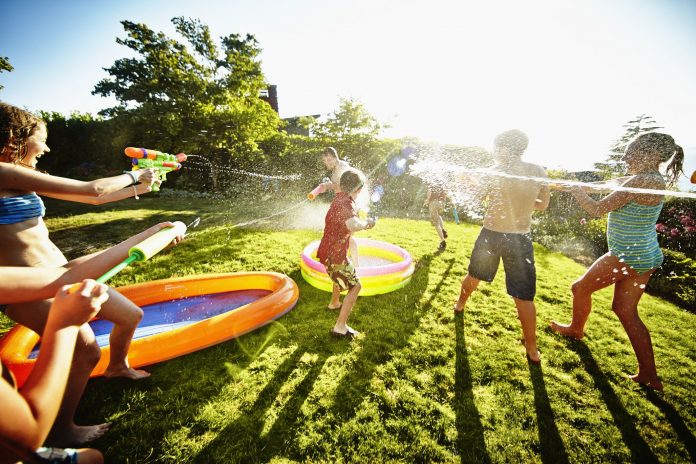 Countless benefits are associated with spending time outdoors, and there's plenty of scientific research to back that claim up. Multiple studies have found that spending time outside can help reduce cortisol levels (aka stress).
Other research has linked outdoor activities to improved cognitive abilities,2 and still more studies have shown that time outdoors can help prevent short-sightedness in children.3
Spending time as a family outdoors opens up a whole other world of benefits — namely the benefits of bonding and creating lifelong memories. If you're looking for creative ways to spend time outside as a large family, start with this list of ideas.
Break Out the Sidewalk Chalk
Grab a bucket of sidewalk chalk and have at it on a quiet street, a local park, or even your very own driveway. Play Tic Tac Toe or hopscotch, collaborate on a family chalk portrait, or have a fun competition to see who can draw the silliest picture.
Park Under a Tree with a Good Book
Either grab a few books from your existing collection or swing by the local library, then head over to a shady spot under a tree with a blanket, refreshments, and snacks. If not all your kids are old enough to read yet, take turns reading to each other.
Start a Family Garden
Few things are more satisfying than watching a garden come to life. As a family, choose a variety of plants and then work together to till a patch of soil (or use a raised bed) and plant your pickings. As a bonus, gardens are an excellent way to teach responsibility to kids of all ages, and you can continue working on the project in the months and years to come. Simply being able to identify different plants is a life skill that will keep on giving, too!
Teachable Moments and Your Child
Take a Hike — Literally!
Depending on your kids' hiking abilities, select a local trail and go for a nice stroll. If you want to keep it easy, choose a flat terrain and short distance. For more of a challenge, increase length and elevation. Make sure to pack plenty of water and a nutritious snack.
Walk, Jog, or Run for A Charity
This one takes a bit of foresight, but all you need to do is seek out a local charity walk or jog and sign up the whole family. Make it extra fun and let everyone else know you're a proud family team by all wearing the same shirts or having fun with accessories! This can also be a great way to get the gang out and exercising more during the weeks leading up to the event.
Pack a Picnic and Head to the Park
A classic picnic is always a great time. Shop together as a family beforehand to choose mess-free fruits, vegetables, and other healthy snacks. You can also make some easy sandwiches for the whole brigade. A local park is great, but even a patch of grass in the backyard will be charming as ever. There's just something about the novelty of eating outside that'll get your kids excited about spending time as a group.
Host a Car Wash and Donate Any Proceeds
If your kids are old enough, get together to host a charity car wash. (Your large family should be able to be extra speedy with all hands on deck!) Local churches, gas stations, parks, and club houses will likely grant you permission to use their premises (make sure to ask in advance), but you can also do this at your home. Choose which charity you'd like to donate proceeds to as a family. This can also serve as a learning moment for your children about the importance of giving your time to help others.
Go on a Nature Scavenger Hunt
Have Mom, Dad, or an older sibling come up with a list of natural objects you're bound to find in your local habitat. For example: acorns, a worm, different types of leaves, a bunny rabbit, a spiderweb, a pinecone… the possibilities are endless! Aim for about 15 to 25 depending on how ambitious you're feeling, then hit the outdoors together and try to cross off as many items on your list as possible.
Try These Fun and Physical Outdoor Activities With Your Kids
Try a Full-Blown Water Balloon or Squirt Gun Fight
In the dead heat of summer, nothing feels quite as refreshing as splashing around with some water. Take things up a notch by throwing some water balloons and squirt guns into the mix. As a family, fill up as many balloons as possible and then go at it! Alternatively, grab a couple of super soakers and chase each other around the yard. You can even divide into two teams (kids versus parents is always a good one).
Engage in Some Friendly Family Competitions
Plan a full day of friendly family outdoor competition! Divide your family in half, then let the games begin. Some examples include a hula hoop-off, an obstacle course, basketball free-throw competition, tug-of-war, and quick sprints. This is a great way to encourage physical activity.
How to Build Strong Self-Esteem in Your Child
Paint Outside
You can always paint indoors, but painting outside is arguably way more fun (and way less likely to leave you with a big mess to clean up). Pick up some canvas and acrylics, or some washable kid safe paints, then get creating. For younger kids, try finger paints or "paint" the walls with a brush and bucket of water.
Collect Rocks and Then Paint Them Together
Go rock hunting as a family to pick out some good candidates, then set up shop in the grass and paint them with acrylic paint. To keep the design intact, make sure to use a spray-on sealant once the paint has dried. You all can place the rocks in your yard, in a garden, or really anywhere your heart desires!
Bring Your Go-To Activity Outside
Sometimes getting outside is as simple as bringing what you do inside to the great outdoors. Maybe it's as simple as playing a board game, reading a book, working on a puzzle, or playing a game of chess. Taking in the sunshine and fresh air will make the activity feel special and new.
Go Fruit-Picking as a Family
Spring, summer, and fall are ripe for the picking — literally! Hit up nearby orchards or pumpkin patches during autumn, or grab some empty pints and pick blueberries or strawberries at a nearby farm during the summer. In lieu of fruit, you could also opt for a "pick your own" vegetable garden. In the winter, pick out a Christmas tree together.
Visit a Nearby Pond or Lake
There's much fun to be had at a local pond or lake. For instance, younger kiddos in your large family can have fun catch-and-release fishing or walking around the perimeter. If you're eager to get into the water, rent canoes, kayaks, or paddleboards and explore together.
Shadow a State Park Ranger (or Simply Volunteer at a Local Park)
If you're lucky enough to live near a local state park, contact their offices in advance to see if your family could "shadow" a park ranger for an afternoon. Alternatively, you could inquire about volunteer opportunities the park offers. For example, some parks have days dedicated to re-painting fences or rounding up invasive species. Whatever you choose to do, this provides an excellent learning opportunity to teach the value of volunteering and looking after our Earth.
7 Most Important Social Skills for Kids
Break out the Kites
It doesn't matter where you live — seaside, farm country, or urban sprawl — flying kites is always guaranteed to be a great time. Pair up the kiddos according to age and have them work together to get the kites off the ground and soaring high above.
Plan a Weekly Walk Around the Neighborhood
If you're eager to get the family outdoors more often in general, dedicate a day and time of the week to walking around a block or two in your neighborhood or at a nearby park. The consistency will help create a habit and ensure all (or at least most) of the family is able to participate, and it also encourages regular exercise.
Wheel Around on Rollerblades, Skates, or a Bike
In addition to walking, break out some wheels and hit the pavement as a family! Let each child choose their preferred mode of transportation, then safety-gear up and dedicate a good hour to exploring your neighborhood.
Visit a Nearby Animal Rescue Center
Many communities have some sort of animal rescue facility, be it a refuge for wild cats, birds, or even equines. Going to such a facility not only gets your family outside, but it also serves as an educational opportunity about the species being rescued.
Spend the Day at Your Nearest National Park
Here in the United States we're lucky to have a bevy of national parks speckled throughout the country. From White Sands in New Mexico to Shenandoah National Park near Washington, D.C. to Florida's Everglades, there's so many to choose from. You could even make visiting one an annual "field trip" of sorts and choose a new destination each year. If you're feeling ambitious, dedicate an entire weekend to exploring the new grounds.
Try Glow-in-the-Dark Games
Don't forget to enjoy the evenings outdoors, too! There are plenty of nighttime games and activities you could have fun with, ranging from glow-in-the-dark bowling to flashlight tag to "Ghost in the Graveyard" (one person, the "ghost", closes their eyes and counts to 10 while everyone else hides. Once the ghost finds one person, they shout, "ghost in the graveyard" and everyone tries to run back to home base before getting tagged).
Enjoy Stargazing on a Clear Night
If the night is clear, grab the whole family and head to a location with little to no light pollution. Bring a few blankets and lay on your backs, then count the stars, point out big stars and constellations (there are some great phone apps to help with this), or even try to catch some comets zooming through the sky. For more luck with the latter, do this during a meteor shower, such as the Perseids or Leonids.
Campfire and Stories
Another great nighttime activity — and a genuine classic — is to build a campfire and huddle around as a family. You could do this in your backyard or at a nearby campground. Have some fun stories (or songs) ready to go and prep plenty of fixings for hotdogs and s'mores. If your family is extra outdoorsy, go for the full shebang and camp overnight. And yep, tents in the backyard are perfectly OK.
A Word From Verywell
There are no limits to what sort of fun you can have outdoors with your large family, and we hope the above activities inspire you to grab the whole family for some fun and bonding. These aren't just memories you'll cherish as a parent, but your kids will remember them fondly when they're older too.