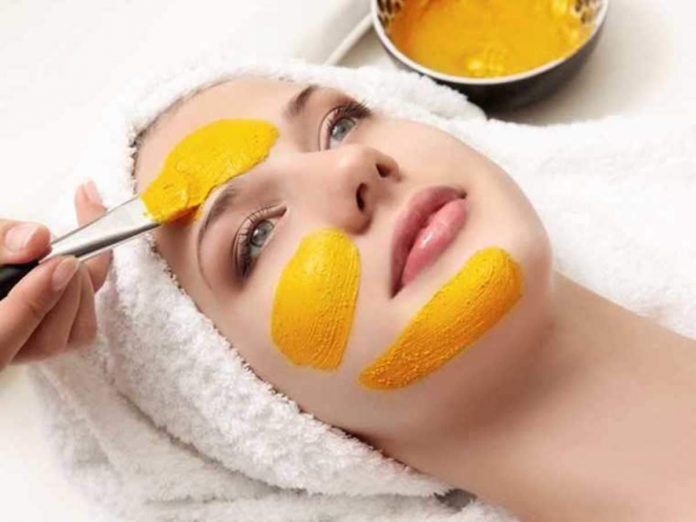 Turmeric benefits the skin in more ways than one. Turmeric has amazing skin lightening properties and has been used to lighten all blemishes from ancient times in India. This age-old ingredient is loaded with antioxidants and anti-inflammatory components which help treat a number of skin concerns such as acne and acne scars, pigmentation, early signs of ageing and sun damage, to name a few.
Let's see below how to use turmeric for skin lightening,
1.Turmeric & Milk Face Mask
Take 1 tsp besan also called as gram flour in a bowl. Add in 1/2 tsp turmeric powder to it. Add enough milk to form a paste and use it as a face pack. To use, apply all over the face and neck, wait for 10 minutes before washing it off with plain water.
2.Turmeric Oil
To make turmeric oil, take a turmeric and rub it on a rough stone along with little water to get a smooth paste. Now heat 1/4 cup unrefined coconut oil along with 1 tbsp of turmeric paste, it will immediately start spluttering. Once the spluttering sound stops, remove and strain. To use, massage this oil regularly before bath.
3.Turmeric Lotion
Turmeric Lotions are wonderful for skin lightening and you can make them easily at home. The turmeric lotion should be applied daily for two to three weeks for the best results.
Mix yogurt and almond flour in a bowl. Add lemon juice and turmeric powder, stir thoroughly. The mixture needs to be fully mixed together. Use immediately or keep covered and refrigerated until you are ready to use. The turmeric lotion can be used for up to one week. Use natural or organic yogurt if possible as it has fewer preservatives. Apply the lotion to your face, neck and leave on for 15 minutes before rinsing off.
4.Turmeric Powder & Yogurt 
Turmeric powder mixed with honey or yogurt is also wonderful for lightening dark spots and  scars. If you have oily skin, mix turmeric powder with honey else if you have dry skin mix it with yogurt. To use, apply a thin coat all over the face, wait for 15 minutes before washing it off.
5.Turmeric Bath Powder
Homemade bath powders are always made with turmeric as a base. They are fragrant, keeps the skin blemish free and lightens the scars and blemishes really well. If you have dry skin mix it with thick creamy rice water else use rose water or plain water to mix.