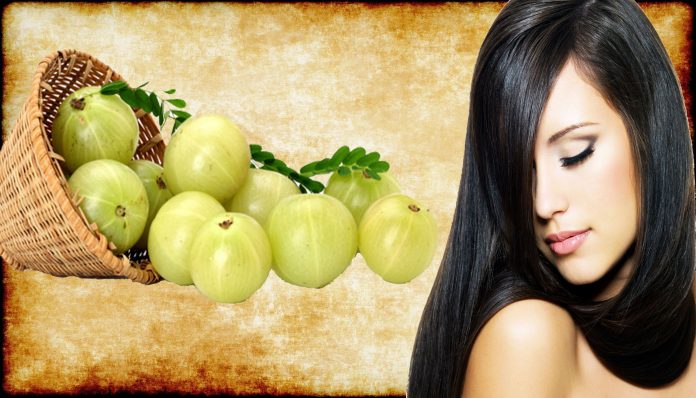 Amla is a sour fruit, with a somewhat sweet, bitter and pungent taste. Eating a fresh amla is like taking your taste buds on a roller coaster. You will be first hit by a sour taste, then the bitter and pungent taste will follow and in the end you will be left with a sweet flavour in your mouth. Amla is one of the richest natural sources of vitamin C. In fact, the surplus of vitamin C in amla helps in stopping premature greying. What makes amla an indispensible component of hair care is its high iron content and the presence of potent antioxidants; its ellagic, gallic acid and carotene content improves blood circulation around the scalp thereby stimulating hair growth and also providing relief from dry, itchy scalp.
3 Ways to Use Amla for Thicker Hair Growth (and Darken Greys):
Since amla is a fruit, you can eat it. Or you can use amla to make hair oil. And you can also use amla water as a last rinse to boost shine and promote hair growth.
1.Eat Amla
2.Rinse Your Hair with Amla Water
3.Apply Amla Hair Oil
1.Eat Amla
Don't worry if you can't find fresh amla, you can also eat them in dried form. Since amla contains tannins, one of the phenolic compounds, they tend to preserve the vitamin C and other goodness of amla. You can take amla powder mixed in warm water or eat the candied or salted amla.
Then there's also amla water you can use on your hair,
2.Rinse Your Hair with Amla Water
You can replace your regular conditioner with amla water. And it will not disappoint you. Amla water is quite magical in its working. It reduces hair loss and adds volume and texture to hair. With regular use, it will also darken your hair-which is fantastic, no more hair dye headache.
You will need:
1 tablespoon dried amla pieces (or 1 teaspoon amla powder)
1 and ½ cups water
1 teaspoon fenugreek seeds (optional, use if you got dry scalp and hair)
Making:
Preparing and using amla water is very straightforward. You simply combine amla with water and let it sit overnight (8-10 hours) and it's ready to use. Of course you need to strain it before using. Discard the amla pieces.
How to Use?
After shampooing, pour the amla water slowly. Massage it into your scalp and hair and let it sit for about 10 minutes. Then rinse out with water. Repeat twice a week.
Lastly, you can also apply amla oil to your hair,
3.Apply Amla Hair Oil
Amla oil is one of the popular hair oils in Indian cultures. And rightly so. Amla oil makes hair stronger and healthier by coating the hair surface. You can make your own amla oil.
It's very simple and easy to make fresh amla oil.
You will need:
1 fresh amla
1 tablespoon coconut oil* (use extra virgin coconut oil)
First step is to grate/blend the amla and extract its juice (discard the pits). Use a grater and then simply squeeze out the juice with a sieve or hand.Next, combine coconut oil with amla juice and beat the mixture with a fork or spoon so that it combines well. And your fresh amla oil is ready.
Slightly warm the mixture (by placing in hot water) till coconut oil melts completely. Massage on your scalp and hair and leave it on for 1-2 hours, then wash off.