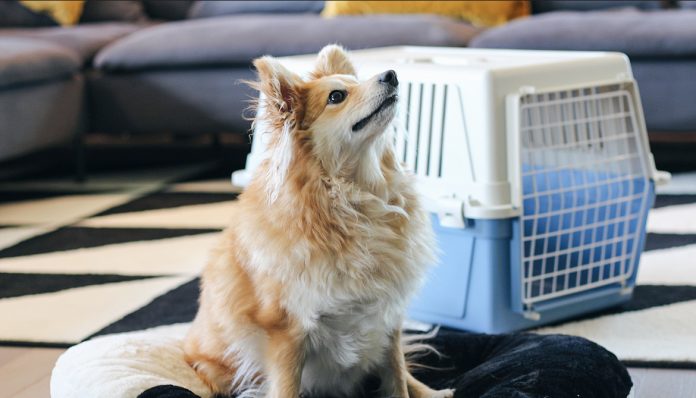 Today, pet carriers come in a variety of styles including bags, backpacks, slings and on-wheel options. Before you make a purchase, consider how you typically travel. If you're going to be bringing your dog or cat through an airport, opt for a backpack or rolling carrier so you can keep a hand or two free to hold luggage and travel documents. Here are the helpful tips for you to choose a perfect pet carrier for dogs,
A)Quality
How can you tell if something is better quality? If you have a chance to see the carrier in person, look for high-quality materials, double stitching along seam lines, sturdy latches, belts, and closures, and a cozy interior for your dog.
B)Choose the right size
Before you go looking for what type might be the best carrier for your dog, it's important to take your dog's correct measurements. Any carrier needs to be large enough for your dog to be able to stretch out and roomy enough to allow for your dog to stand up and turn around readily.
To get your dog's length, measure along his back from the base of his neck where the neck meets his shoulders to the root of his tail. You'll want to add a few inches to this measurement to account for his head and tail.
Next, calculate your dog's height by measuring from the floor up to the top of his shoulders. If you ultimately select a soft-sided carrier, you'll add one to four inches to that number to get the overall height of the carrier that will work for your dog. For hard-sided carriers, you'll need to add three to five inches to compensate for lack of flexibility in the carrier materials.
Finally, you'll need to have an idea of just how much your dog weighs since many carriers have upper limits on weight. If you have a particularly heavy dog, you might need to bump up a carrier size or two to be certain the carrier is sturdy enough to hold your dog without straining or breaking.
Check the height and weight specifications on the carriers you're considering to be certain they'll work for your dog. If your dog's measurements put her at the top of a size range, you might want to consider bumping up to the larger size for your dog's overall comfort.
C)Accidents
One last thing to consider is whether or not your dog is housebroken or prone to accidents. For puppies, older dogs with continence issues, or dogs who can't always hold it, a soft-sided carrier might not be the best option since they're much more difficult to keep clean. If it's possible, you might want to opt for a hard-sided carrier which has plastic sides that are much easier to wipe clean.
D)Sturdiness
For both hard and soft-side carriers alike, you want to be certain that the carrier is well built and has proper internal supports to keep the carrier from collapsing on your dog. Check to be sure that corners and seams are reinforced and that it sits even to the ground without a tilt that could quickly become annoying to your dog.
E)Flexibility
A lot of owners may just need a carrier for one specific reason-trips in the car, flights, hiking, etc.-but others might want a carrier that's multipurpose. In that case, look for carriers that can expand and contract, have shoulder straps that can convert into backpack straps, or perhaps have wheels for pulling behind.
F)Consider how you'll be using the carrier
Next, before deciding on which carrier will be best for your needs, think about how you'll be using it. Ultimately, this will determine which type of carrier-soft-sided, sling, backpack, etc-will be the best fit for you and your dog.
For example, if you're flying with a small dog, you'll probably want to look at soft-sided carriers that fit within airline specifications for under the seat. But if you're flying with a larger dog who will have to travel in cargo, you'll want to look for very sturdy hard-sided carriers that offer plenty of ventilation and stability.
You'll also want to think about if you'll be taking your dog in the car or on public transportation, on bike rides or to places where you'll need to carry your dog on your person, and what lengths of time will your dog have to be in a carrier.
Do you need a carrier that you can carry on your back? One that will keep your dog snug and close, something that will easily buckle into a car seat, fasten safely onto a bike, or has plenty of ventilation for hot climates?
It's really important to spend some time thinking about what you're really looking for in a carrier before you start exploring options. I'd recommend taking notes and making a checklist of must-have options before you look at specific carriers just to be sure that the one you choose is a good fit for your needs and lifestyle.
G)Your pet's temperament
If you know you have an anxious dog, you might want to consider whether more or less visibility will be calming. Some dogs might really like the openness of a mostly mesh carrier while others might do better in a more private environment, in which case you'll want to look for a carrier with zip up windows.