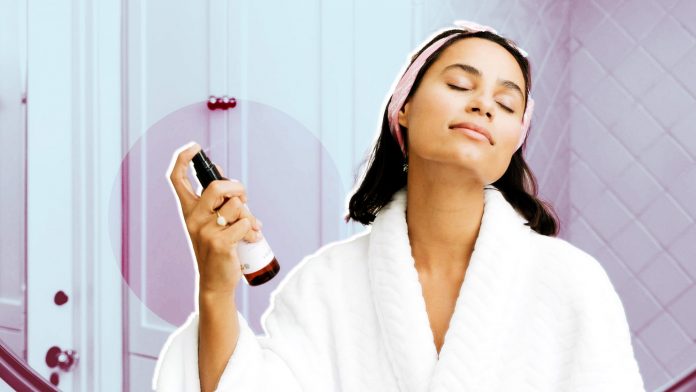 Do you absolutely need a face mist? To be totally honest, probably not. They aren't going to completely transform your skin, and they certainly aren't an essential part of your skin-care regimen. If you have limited time or a limited budget, there are definitely more crucial types of products to buy first.
But can face mists be a fun, easy way to spritz some hydration and a pleasant scent into your day? Definitely!
Humidifying mists—those that contain humectants like hyaluronic acid and glycerin—may "increase hydration levels with microdroplets of water that penetrate the areas between skin cells," Jaimie Glick, M.D., a dermatologist at Marmur Medical Center in New York City and clinical assistant professor of dermatology at Weill Cornell Medical School, told SELF previously. So using a face mist is an easy way to add some hydration to your skin, which can be especially helpful for those with dry skin.
But there's a ton of variety out there. For instance, some face mists can help mattify the skin, which could be helpful for those with oily skin types. Others can even be used before or after applying makeup to prime your skin or to set your makeup look. There are also face mists that contain antioxidants, like vitamin C and vitamin E, or peptides that you might more commonly find in antiaging creams or serums.
For me, the benefits are more about keeping my sensitive skin happy and calm than anything else. Because I have rosacea, my skin frequently gets red, flushed, and warm throughout the day. I personally find that face mists—especially those with gentle, calming ingredients—cool and soothe my face enough that I can get back to work and stop getting distracted by the way my skin feels. These are the face mists I rely on day in and day out to do that job.
Avène Thermal Spring Water, $19
This face mist—which, yes, is literally water in a can—is my absolute go-to. It's so simple, it's really gentle, and somehow it feels incredibly cooling and hydrating. Like, more than other water. I'm not sure how that's possible, but I'm on board.
Tatcha Luminous Dewy Skin Mist, $48
What can I say about this dreamy, luxurious face mist that Kim Kardashian West hasn't already said? It smells amazing, makes my skin feel moisturized, and just feels fancy! I like to use it before a meeting as a little confidence booster or as the last step in my morning makeup routine if I feel like I want some extra glow on my skin.
Mario Badescu Facial Spray With Aloe, Cucumber, and Green Tea, $7
This was the first face mist I ever bought and continues to be a favorite of mine. I love that it has calming ingredients, like aloe, and leaves my skin feeling cool and refreshed.
Glow Recipe Watermelon Glow Ultra Fine Face Mist, $28
Have you ever wanted to surround yourself with the scent of a watermelon Jolly Rancher? That's basically what this hydrating face mist does. It's simply fun to use! It also has an incredibly fine spray, so it doesn't leave you feeling too wet.
Dr. Jart Cicapair Tiger Grass Calming Mist, $23
The Cicapair line from Dr. Jart relies on an ingredient called centella asiatica, or cica for short. It supposedly has incredible calming and anti-inflammatory effects on the skin, but the current science isn't totally conclusive. Still, I use the other products in this line regularly and find that this mist is really refreshing.