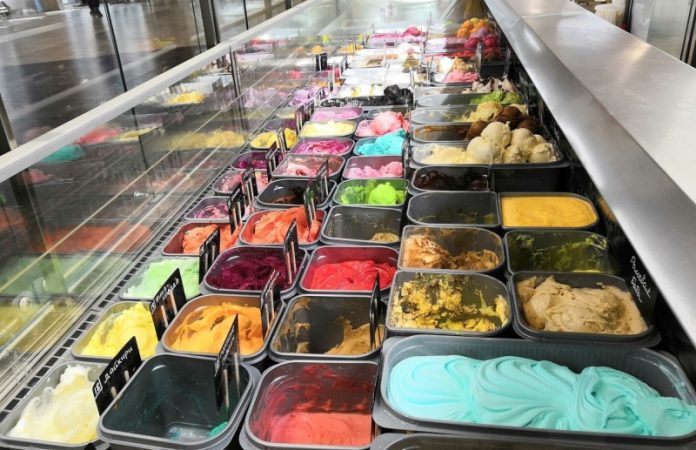 Despite Russia's reputation for harsh winters, summers in St. Petersburg feature spells of scorching heat that make you wish you were somewhere colder. Thankfully, we humans have come up with a way to introduce a bit of winter into even the sunniest day. And if you're tired of the same classic store-bought flavors, we present a comprehensive list of the most unusual, delicious and mind-blowing icy goodness you can get in St. Petersburg. Enjoy – and stay cool!
Sweet & Cold: sorbets and gelatos
It's no surprise that the best chilled desserts come from some of the hottest climates, and we have Italy to thank for inventing gelato and sorbetto. The trendy gelateria (Liteyny Av. 51) has a wonderful selection of both, with flavors from classic strawberry to blood orange, rotating on a daily basis. Another great gelateria is (Zanevsky Av. 67-2 and Etagi Loft, Ligovsky Av. 74), which also has its own delivery service that includes an option for your own gelato-serving kit complete with cones, a special spoon and different flavors (if you're feeling like being in charge).
And if you'd like to have more than just a dessert, the Italian restaurants (Fontanka Emb. 30) and (Bakunina Av. 5) serve exquisite authentic gelato in addition to pizzas, pasta, risottos and so much more.
Wild Flavors
In this time of abundance, regular flavors might seem trite and boring. But worry not, because there's plenty of outlandish flavors to try these days! For starters, try (Ilyushina St 14, Vyborgskoe Hwy. 503), an ice-cream parlor chain with an untranslatable name (ask your Russian friends what it means!) that offers dozens of rare flavors, from mild ones like maple syrup, lavender or buckthorn to complete surprises such as blue cheese, rye bread or mushrooms.
If you want to try not just new flavors, but also new forms of chilled desserts, start with ITMO University's own ! This food truck serving cryogenic ice-cream has a flair for the dramatic: the treats are prepared right in front of you, and their drinks are topped with literal fog. The truck is always on the move, so keep an eye out for food and music festivals around town, or just enroll at the university and you'll get to eat it on your graduation day.
Those among us always in pursuit of social media clout will probably love (Kronverkskaya St. 12 and a food truck in Aleksandrovsky Park), the most photogenic ice cream place in St. Petersburg. Black, neon pink or acid green ice cream in dark cones with colorful sprinkles: a delicious assault on the visual senses.
The cafe chain (Marata St. 57, Brinko Av. 3) specializes in Japanese fish-shaped sweet and savory cakes, but they also serve the traditional dessert Kakigōri, which consists of shaved ice covered with sweet syrup. The dessert comes in green tea and strawberry varieties, as well as a seasonal one called Shirokuma (polar bear) with fruit and Japanese jelly.
And if you're vegan, just go for any sorbet ("sherbet" in Russian) or try the variety of local and imported dairy-free ice creams sold in St. Petersburg's numerous vegan stores such as , and many more.
The Ice Cream Lover's Russian Dictionary
Don't let the language barrier stop you from cooling off in the summer! Here are some Russian words you should know when shopping for ice cream:
Мороженое (morozhenoye) – the main word you should know, as it means "ice cream", or, if translated literally, "that which is frozen".
Пломбир (plombir): your run-of-the-mill, sweet milky ice cream.
Стаканчик (stakanchik): a mug-shaped wafer that's both a vessel and a nice snack.
Трубочка (trubochka) or рожок (rozhok): a wafer cone, the kind available all around the world.
Креманка (kremanka): a low bowl used to serve ice cream. Can be made of paper or plastic if you're getting some ice cream to-go.
Эскимо (eskimo): a Soviet-era treat of chocolate-glazed ice cream on a wooden stick.
Лакомка (lakomka): another blast from the past, this is a creamy bar of vanilla ice cream wrapped in a chocolate shell.
Брикет (briket): a brick-sized slab of ice cream in a wrapper for taking home and keeping it in the freezer. People might look at you strangely if you eat one outside, although smaller-sized ones are also popular, often in the form of a wafer sandwich.