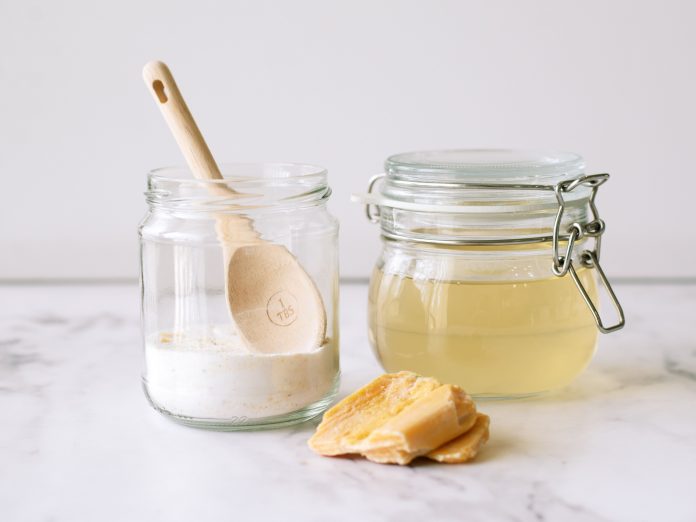 Homemade laundry detergent is a huge budget-saver-especially if you tend to purchase organic and natural versions of your favorite detergent. By making your own, you can choose the ingredients and can make sure that there are no dangerous chemicals that can be a potential hazard for your family. Making your own homemade laundry detergent will not only give you peace of mind, but it will also cut your laundry expenses in half.
The main ingredients for making this homemade laundry detergent are washing soda, baking soda and Castile soap.
All these three ingredients are amazing cleaners that are very gentle on the skin. Each one has their preference when it comes to mixing these ingredients. Castile soap is a cold pressed soap made with only olive oil as a base and is very gentle on the skin. You can easily order it online and it is not very expensive.
All you have to do is mix all the ingredients along with some good quality citrus essential oils for fragrance and your homemade laundry detergent is ready to be used!
How To Make Homemade Laundry Detergent?
Materials:
Baking soda – 1 cup
Castile soap – 1/2 cup
Essential Oils – 10 drops
Washing soda – 3/4 cup
Method:
1.Take a block of Castile soap and shred into small pieces or grate it using a grater. After mixing use knife to shred the Castile soap pieces. It is better if you grate it.
2.Measure out the baking soda and washing soda.
3.Mix the grated soap, washing soda mixture and citrus essential oil and store in an airtight box.
Notes:
You can also skip the essential oil, if you don't want any fragrance. But adding fragrance make the clothes smell nice and choose the essential oils that you prefer.
You can double or triple the recipe for making huge batches.