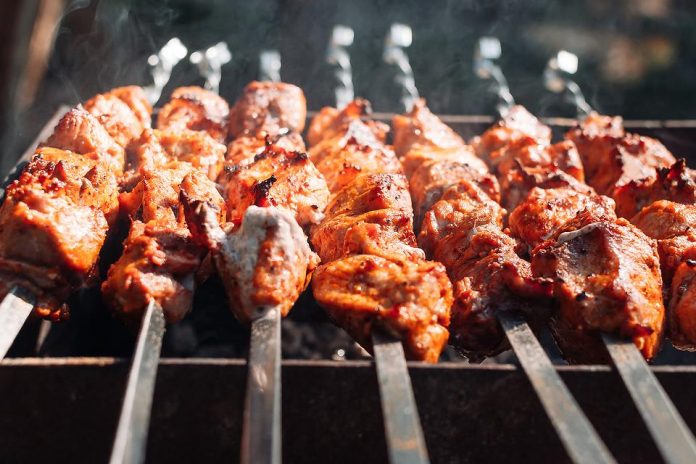 Chicken kebabs are one of the most popular in the Indian cuisine. Here are 13 scrumptious and easy chicken kebab recipes you can try at home!
No get-together is complete without some scrumptious kebabs on the table. The whiff of kebabs make it just impossible to resist. So let's just agree that a platter of juicy kebabs is always a crowd pleaser. Grilled, pan-fried or baked, mutton or chicken, kebabs have always made us drool over them in all their forms. From seekh kebabs, shami, gilafi to tangri kebabs, there are options galore when it comes to cooking specially with the lean meat- chicken and guess what? You can make each one of them at home too!
Here we have 13 of the best chicken kebab recipes that you can try:
1. Chicken Malai Seekh KebabSeekh kebabs are one of the most popular kebabs around and there have been endless varieties to it. These cramy seekh kebabs laced with a mix of bread crumbs, cream, fenugreek seeds and more is a must try though! Click here for the recipe.
2. Chicken Gilafi KebabA unique type of seekh kebab that has a covering (or gilaf) of chopped vegetables over the cylindrical-shaped minced meat which has been marinated with spices and skewered over iron rods. Cooked on charcoal, either in a barbeque or clay tandoor, these kebabs are sure to make you drool! Click here for the recipe.
3. Kalmi Chicken KebabBoneless chicken thigh pieces mixed in a pool of yogurt, cream and spices and fried to crispy perfection, kalmi chicken kebabs makes for a heavenly snack to nosh on! Find the full recipe here.
4. Chicken Galawat KebabSaid to be a hallmark of Awadhi cuisine, chicken galawat kebab is made by marinating minced chicken in with raw papaya along with spices such as peppercorns, cardamom, poppy seeds, ginger, garlic and more. The kebabs are then deep-fried to perfection. Find the full recipe here.
5. Chicken Shami KebabKnown to have originated during the Mughal era in the royal kitchens, shami kebabs are a delectable snack made with either with minced mutton or chicken mixed with host of spices like red chilli, green chilli, black peppercorn, etc. Find the full recipe here.
6. Chicken Malai KebabChicken malai kebab is one variety that isn't too popular but can be a great addition to your snacks menu. If you love the combination of cream cheese, mozzarella and chicken, then this one is exactly what you need! Find the recipe here.
7. Chicken Handi KebabNo tandoor, no oven, all you need for these chicken kebabs is a wok, oil, onion and spices tossed in with chicken, cooked till a thick paste-like gravy laced around the chicken chunks! Click here for the recipe.8. Cheese Chicken KebabIndulge in this cheesy, creamy and absolutely delicious kebabs made with a mix of tantalizing spices wrapped around chicken chunks and then dipped in a mix of yogurt, cheese and gram flour. Cooked in tandoor, cheese chicken kebabs are a treat to the taste buds! Find the recipe here.
9. Peshawari Chicken KebabPerhaps one of the easiest kebab recipes, Peshawari chicken kebabs boasts of eclectic flavours of cumin, black pepper, red chillies, ginger, garlic, anardana, coriander and more. These spices and herbs are tossed in with chicken, marinated for 30 minutes, shallow fried and served hot! Find the full recipe here.
10. Kaghzi KebabUnique, yummy and quite an easy one, kaghzi kebab are made by stuffing chicken drumsticks with a sautéed mix of minced chicken, dal, pine nut and seasoning and marinating it in a pool of spices and yogurt before char-grilling it on skewers. Stuffed chicken drumstick kebabs on the table, sounds interesting isn't it? Find the recipe here.
11. Tangri KebabA truly satisfying snack, Tangdi chicken or chicken leg can be cooked in numerous ways- grilled, fried, sautéed, roasted and even baked. Here is an easy microwave recipe that you can try at home. Find the recipe here.
12. Chicken Boti KebabGenerally, the boti kebab is made from mutton, this recipe uses chicken to recreate this delicacy. Chicken boti kebab is very easy to prepare and would make a delicious party snack!
13. Chicken Hara Bhara KebabChicken Hara Bhara Kebab is made by blending spinach, potatoes and peas, to give the dish its distinct flavour and refreshing colour.